Why do some men become Brutes?
A new Domestic Abuse law, which carries a maximum prison sentence of five years, was brought in to include abusive behaviours, which do not amount to violence but still cause someone to fear violence will be used against them, or generate serious alarm or distress that has a substantial effect on their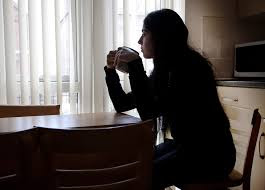 usual day-to-day activities. Abuse can include a pattern of threats, humiliation and intimidation, or behaviour such as stopping a partner socialising, controlling their social media accounts, surveillance through apps or dictating what they wear.
Last week I was doing a Radio interview with Tony & Nicki Vee, the renowned Intimate Relationship Coaches. The topic was What Makes Men and Women Different? 
The basic answer is not their bodies but the feminine or masculine 'energies' with which they are endowed.  But we all have the potentiality of both feminine and masculine within us.
Tony and Nicki outlined a combination of energies which results in macho behaviour by the male to control his intimate relationship in an abusive way.
Then I heard on the BBC about the new law which makes non-violent 'controlling and coercive behaviour' a criminal offence.  It is very good that The Archers is openly presenting the issue of domestic abuse.
This abusive behaviour has the common denominator of exerting 'control'. I found a very good article by Margaret Hatwood of Anthony Gold Solicitors which states the main features of Coercive Control as
•             Isolating a person from their friends and family –
•             Monitoring a person
•             Financial abuse
•             Repeatedly putting her down
She does a very good analysis of these with relation to the situation portrayed in the Archers.
https://anthonygold.co.uk/latest/blog/coercive-control-a-new-law-and-the-archers
All these things got me thinking about the underlying question 'Why do some men become 'Brutes?'  This is an apt description I remember being used by a Counsellor working in the field of Domestic Abuse.
In my observation the underlying cause seems to be insecurity about their own Masculinity. These men may come across as inoffensive in normal outside world situations but feel they can assert their masculinity by macho behaviour in the privacy of their home.
The behaviours Margaret Hatwood identifies have the common denominators of trying to control their partner to prove their masculinity and to prevent losing their partner to a more masculine, and therefore more attractive, male.
According to Tony and Nicki, who sum up the behaviour of what they term a Macho Man as 'A man who attempts to control his woman because he feels he is not masculine enough and fears losing her. He controls her by verbal abuse or physical strength'.
This adds up to a very sad picture of fear and insecurity. In the few pictures we have of perpetrators I have the impression they are visibly confused and fearful in the glare of publicity.
Judge for yourself by looking at the picture in this article from the South Yorkshire edition of The Star.
http://www.thestar.co.uk/news/south-yorkshire-man-s-conviction-for-control-and-abuse-of-partner-could-be-first-of-many-1-7919078
And where does this fear and insecurity about his masculinity come from?
My guess is that in many cases it would be caused by childhood or adolescent experiences which questioned or threatened his masculinity. As a result, he is looking to create a situation where he can be in 'control' and demonstrate his masculinity.
Hopefully my next Blog post will be able to deal a more cheerful topic.
PS   Come and see us on our Facebook Page. Like it if you do, Comment and Share if you want to.
https://www.facebook.com/newmidlifewoman